Sixers and Seconders Camp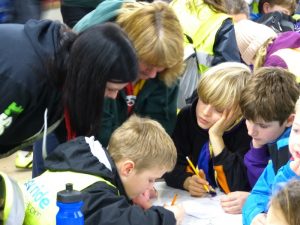 The sixers and seconders from around the District had a fantastic time at their camp at the weekend. It was exceedingly muddy, and we had a fair amount of rain, but the Cubs all had a great time anyway.
On the Friday night they were brushing up on their map reading skills in preparation for Saturday. The Cubs were put into teams of five or six with at least one friend from their own group, but with Cubs from a different group as well.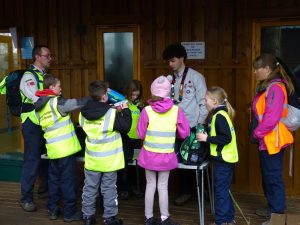 They were given a map and a Scout-standard route card to plot the route of their hike for the day, and they had to make their own lunch. The teams then departed on the hike – it was about six miles, setting off from the campsite in a circular route. As last year, the hike was organised by the District Network, with bases being run by the Explorers. Cubs were challenged by the longer route, and by the exceptionally muddy ground conditions. In some places the field ditches had been overwhelmed, and there were mini-lakes of standing water to negotiate as well. But all teams managed to complete the hike, and returned to the campsite for dinner and then a fantastic campfire before bed.
Thanks go to all of the Network members and Explorers for organising the hike and bases, to the catering staff, and to all of the Leaders for ensuring the weekend ran as smoothly as it could.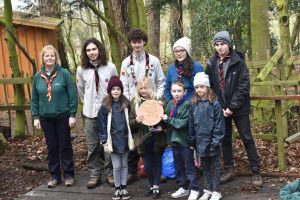 Congratulations to the winning team, from Lutterworth and Huncote & Croft